Ellis Custom Models
"I'm about trying to match people with the guitar that is going to suit their needs. I don't make more or less money on a particular model. They've all been budgeted out so that I make the same amount of money. It's my job to match a person up. I talk and listen and hear what they play and what they want to get out of the guitar." Andrew Ellis, Head Luthier, Ellis Guitars – Perth Western Australia. (Australian Guitar Magazine Vol 55)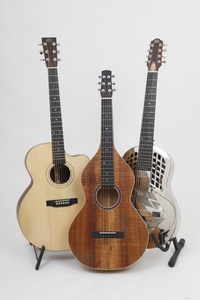 The ellis Custom Models Range includes:
Steel string dreadnought, 000, jumbo, OM, small jumbo, L1, Weissenborn and Lap Steel guitar, mohan veena , Chaturangui, Indian Classical Slide Guitars, wood body and metal body resonators are all hand crafted and handmade.
Want to build your dream guitar?
Contact Us at Ellis Guitars to discuss your ideas.
A combination of ellis Custom Models options include:
body shape, body thickness, neck thickness, neck back radius, headstock shape, ergonomics.
00 / small body, 000 / parlour, OM model, dreadnought model, small jumbo model, jumbo model, baritone, harp guitar, weissenborn, lap steel.
14 fret to body, 12 fret to body, extra frets, slotted headstock, solid headstock, fretboard radius, thicker fretwire, thinner fretwire, short scale length, sideports, fanned fret, soundhole position, double neck, left-handed extra strings.
6 string, 7 string, 8 string, 12 string, 18 string sympathetic strings, drone strings – back timber, sides timber, soundboard, binding, headstock veneer, inlays, rosette – treble response, bass response, even response, volume output, finish effect, bracing effect – timbers effect.
nut, saddle, machines, bridge pins, end pins, strap button, pickup, bridge – dots, paua abalone, pearl, wood, signature, heel cap, body heel, your design
Custom Guitar Magazine Review by Nathan Gaunt
When trying an ellis guitar for the first time –
"…what I noticed was the projection of his (Andrew Ellis) acoustics was a lot more than anybody else's guitars that I had played. I was previously playing a Martin six-string. The way that his guitar projected, to me, felt more open, it felt bigger. It had a lot more highs, more lows and a good mid range."
Nathan Gaunt, Guitarist, Perth Western Australia. (Australian Guitar Magazine Vol 55)
On the ellis Guitars Nathan Gaunt signature OOO –
"After two months of playing the six-string that he (Andrew) built, it was very clear that it was the best guitar I had owned, and I've had a few Guilds, Martins and Matons. It became an extension of me, that beautiful cliche that guitarists search for."
Nathan Gaunt, Guitarist, Perth Western Australia. (Australian Guitar Magazine Vol 55)
Luthier Andrew Ellis comments on the ellis Guitars Nathan Gaunt signature OOO –
"Nathan likes a lot of the old-school guitars, so I built him a traditional guitar with a 12-fret to the body join. What it does is it brings the bridge further down on the body. Most of the sound comes from the sound-hole down. If you've got the strings right in the centre of that spot, it's like the centre of the cone on a speaker. To utilise that area the best, that's why guitars were originally built that way. I've also done the old-school slotted headstock, and that gives more downward pressure over the nut area."
Andrew Ellis, head luthier, Ellis Guitars, Perth Western Australia. (Australian Guitar Magazine Vol 55)
The Nathan Gaunt signature 6 string vintage acoustic guitar has the following custom features:
Looks and plays like a vintage acoustic guitar
Suitable for both band and solo playing and also in the studio
Slotted head stock
12 frets to the body of the guitar
Pyramid bridge made from Indian Ebony
A wider nut with and spacing between strings