Introducing Ellis Acoustic Guitars and Stompboxes
For over 10 years Ellis Guitars has been hand crafting acoustic guitars and stompboxes.Located in Perth Western Australia, Ellis Guitars has gained recongnition with both local and international musicians.
Our guitars are crafted using a combination of international timbers renowned for acoustic and sound-producing qualities, temperature and humidity controlled environments, attention to colour matching and design. Our patient awareness of the delicate processes of manufacture including wood tuning, thicknesses, bracing and finishing techniques guarantee beauty and quality.
You can choose from one of Ellis Guitars' standard models – triple O, OM or Dreadnought or have one custom made.
The Ellis Guitars Acoustic Stompbox is the original wooden stompbox hand crafted by Ellis Guitars from the best Australian and international timbers.
You can choose the original or mini size and both sizes come in a variety of timbers.
Standard Models

Choose from 000, OM and Dreadnought

 

Custom Guitar

This custom guitar features African Blackwood

Stompbox

Standard Ellis Guitars Acoustic Stompbox
Ellis Guitars Magazine Reviews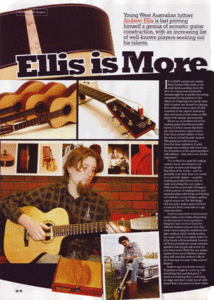 "Guitars, Stompboxes and finely honed sense of the individual are what Andrew Ellis peddles. So why buy an Ellis Guitar? I think Nathan Gaunt sums it up best. 'He's very open to people's ideas of what they want in a guitar, and he's very clever in the way he adjusts the guitar to achieve the sounds that people are after. I think that's what makes his work so desirable – he customises his work a little bit for everybody, and you get something that's truely yours.' "
Carlisle Rogers Australian Guitar Vol 55
Let's just get one thing out of the way right now – like so many others before me, I loved the Ellis Stompboxes almost immediately. I pride myself on having excellent time, and have often used a tambourine on the floor in a similar fashion to the Stompbox for acoustic gigs, so the idea appealed straight away. However, nothing is quite like the experience of hearing your beat come back to you as a bass thump that sounds impossibly large (and much more appropriate for the downbeat than a tambourine). I look forward to using the Ellis Stompbox a great deal more. While it's primary role is obviously for solo performers playing live, I can imagine the sounds being useful in small ensembles, as well as in recording applications. While nothing can replace a kit drummer for complexity and the ability to describe numerous features of a rhythm concurrently, a lot of music requires so much less than that. With roots music being as popular as it is at the moment, you can expect to hear a lot more of the Ellis Stompbox in the future."   Craig White – Australian Guitar – Jan,Feb – 2007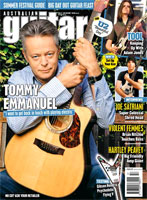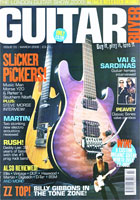 "Short of being a one-man band (a musical crime second only to the accordian), it can be difficult for acoustic players to integrate any sort of beats into their set. With the Stomp Box, it's hard not to like Ellis' refreshing take on FX pedal design. This was never meant to be a full drum kit, let alone a drum machine, but what it does is amplify something you're doing naturally in rhythm while you play. There's something personal about that, and for those looking to add a little quirk to their live show, it makes everything a bit more, well, organic. You can't get more lo-fi than a block of wood with a pickup in it, so digiphobes might well smugly rejoice. An oddity, but one that's worth a try."
Rob Sandall – Guitar Buyer UK – March 2006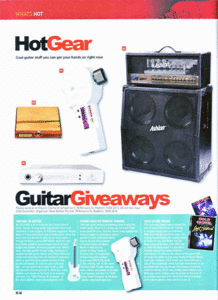 "… the Ellis Stompbox a very cool little rythm companion."
Australian Guitar Magazine Vol 50