ellis 000 Small Body Guitar
The ellis OOO small body guitar is one of the standard models in the ellis guitars' range. It is a combination of solid Mastergrade Sitka Spruce and solid East Indian Rosewood. Both of these woods are renowned for acoustic and sound-producing qualities. The ellis OOO small body guitar also features a Solid Ebony Fingerboard and Bridge. It has Gotoh Chrome Tuners, solid Bone Nut and Saddle and the slotted headstock. The advantage of a slotted head stock is that it provides more downward pressure over the nut. The overall result is a simple and beautiful traditional OOO instrument.
When choosing the guitar body shape consideration must be given to the player and the style of music they play. The OOO body shape is ideal for fingerpicking/fingerstyle and pseudo classical style guitar playing. The smaller size of the soundboard means it can respond more quickly and more easily to a lighter touch. The smaller body size makes the OOO less cumbersome. The scale length is still the same but having a little less body to have to get your arm around can make a big difference. The smaller body may make this guitar more appealing to female guitar players.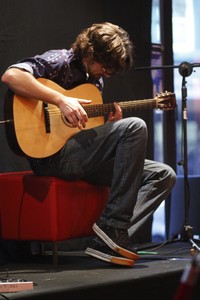 ellis OOO Small Body Guitar
Pete Barrenger is one of Perth's most interesting and talented instrumental fingerstyle acoustic guitarists. With his laid back relaxed style Pete has wowed audiences across Perth with unique original compositions clearly demonstrating his influences in Flamenco, Jazz, Classical and Contemporary Acoustic guitar. To hear more of Pete check out his EP "Downtime".