ellis Left Handed Electric Acoustic Guitar
ellis left handed electric acoustic guitar features Engelmann Spruce and East Indian Rosewood. A beautiful combination of traditional timbers built for a left handed player, sure to be appreciated by players and audiences alike.
This ellis lefthanded electric acoustic guitar, OM 14 fret, is owned by Craig Sinclair, singer and songwriter in Albany, Western Australia. It has a sunrise pickup and a KK sound pickup. This allows Craig to combine his amp sound with the acoustic sound of the guitar. He can blend them using his volume pedal and his twin preamp. This ellis left handed electric acoustic guitar has the feature of being able to be played as a lap instrument as well as a regular guitar.
Click to View
ViewCraig Sinclair playing his ellis OM 14 fret acoustic electric as a lap slide guitar.
Craig Sinclair combines crisp fingerstyle slide guitar playing with soulful vocals and contemporary original folk-blues songwriting to craft a unique style that draws on many rich traditions, but in the end answers to itself. Craig's playing style has been likened to blues players like Kelly Joe Phelps and Jeff Lang.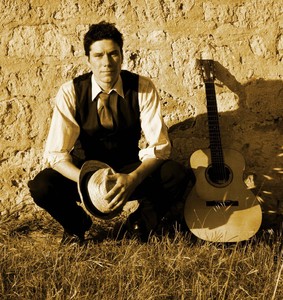 Here are some reviews of Craig Sinclair's debut album.
"an impressive debut album" (The Fremantle Herald)
"a talented local singer and guitarist with some fascinating lyrics and wonderful melodies… returns to popular acclaim" (Mundaring Folk & Blues Club)
"Stones Beneath the Surface, Craig Sinclair's debut solo album, is a left-handed, bluesy tour through the mind of a very talented guitarist and songsmith. It opens with some beautiful guitar picking, which sets the mood for the whole album and describes Craigs art perfectly; modest, restrained and soulful." (Cran Herlihy, KCR 102.5 FM)
"This is an artist who capably attracts music lovers to his well-structured songs, talented guitar-playing and smooth vocals. Our lives become all the richer by hearing the Craig Sinclairs of the world. Time for you to seek him out." (Derek Cromb, TWIN CITIES 89.7 FM)
"a guitar virtuoso" (Eric Bogle)
"it's refreshing to see something this honest and individual in the modern day blues and roots genre" (Mike Elrington)