Description
ellis original stompbox – red jarrah
FREE POSTAGE IN AUSTRALIA
PLEASE NOTE THAT CURRENTLY THERE IS A FOUR WEEK WAIT FOR ORDERS TO BE PROCESSED.
The Ellis Guitars Acoustic Stompbox is the original wooden stompbox hand crafted by Ellis Guitars from the best Australian and international timbers.
The Originals weigh around 200 grams.
They are around the size of a CD Case and are 2.5cm high
All ellis stompboxes come with a custom pickup, standard 1/4 inch end jack and 12 month warranty.
ellis original stompbox set up
The ellis Stompbox is simple, and is therefore flexible in it's setup options.
The simplest set up is to run it straight into an amplifier, and generally the bigger the amp, the bigger the "boom".
Run the ellis Stompbox through an EQ or PA and turn down the trebles and mids to produce a deeper sound.
The ellis Stompbox comes with a standard jack for just about any setup.
ellis Stompdoxes are built to last, when used properly.
They are not designed to be stomped on, particularly directly onto the timber top.
You only need to tap the corners or sides to achieve a great result.
Click to view stompbox demo by Arun (Australia)
Click to View ellis Acoustic Stompbox Players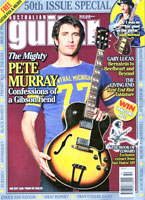 Australian Guitar "Hot Gear' Stompbox Review
"A small wooden structure with a pick up inside, so guitarists can tap their feet to produce a booming percussion sound – like amplifying the sound of your foot tapping on a wooden stage. Built by West Australian luthier Andrew Ellis, these boxes look fantastic and are all handmade to last. Different sounds can be produced depending on what part of the box you tap, and different-soled shoes will affect tonal output too, making the Ellis Stompbox a very cool little rhythm companion". "Hot Gear", page 16-17, Australian Guitar, Dec 05.
The stompbox is also known as a timber acoustic stomp box, foot percussion, foot pedal, cajon, cajon foot pedal, percussion box, box drum, porcboard Bass, rhythm box, acoustic drum box, stomp box drum, foot stomp, bass drum trigger, foot stompbox, bass foot pedal, ellis pedal hand drum and many other names around the world.